What if your RV was also your enclosed trailer? No, not a toy hauler, but an actual bus that had been modified to open at the front so you could load your racecar right into it? No trailer needed. At first glance, this thing is just a painted up metro bus, but then you realize that the front opens up and you can load your racecar in. Consider it the mullet of car haulers and racetrack shenanigans. You keep your racecar in the "garage" in the front, and party in the lounge area in the back. Some crazy individual in California built this thing and we are so happy they did. Consider us sold.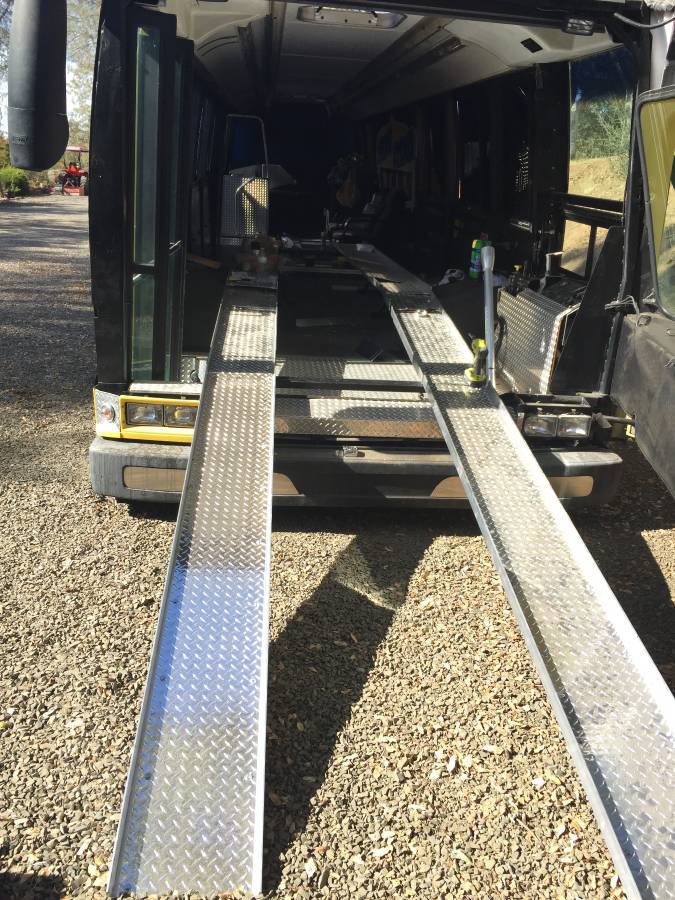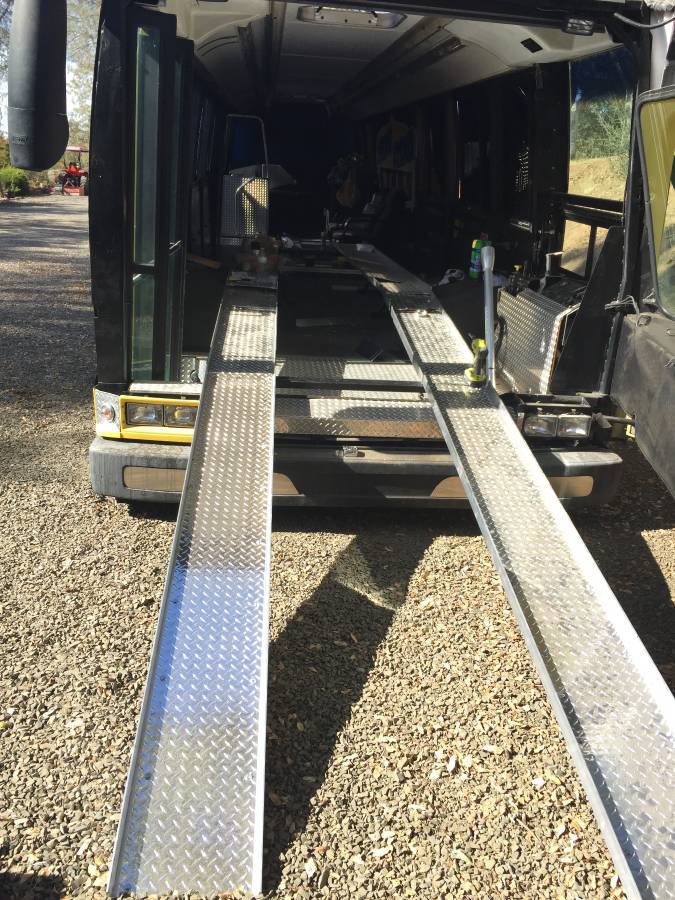 From the Craigslist Ad:

Want something different? Custom built by Henry's Hot Rods of Shingle Springs, CA. this very unique Flxible Metro bus transporter features a one-off opening front cap for loading your racer. The driver/passenger area feature 3 abreast quick release race buckets, which pop out to install aluminum loading ramps, and a Flaming River billet steering column with a sprint car steering wheel.
The eye-catching flame paint job, fantastic hot rod murals, various pinstriped panels and 18' long roof top wings (ala '57 Chev) constantly garner 'thumbs up' approvals from on-lookers. New low profile front Toyo's tires and 4 new 80 series rear tires give her the perfect hot rod rake. Four wheel air bag suspension is fitted with fast acting leveling valves which keep her cornering flat..she drives like a sportscar! There also are custom individual front and rear dump valves to nose her down or slam her like a low-rider! It's also easier to load her!
The 6V92TA turbo/supercharged Detroit Diesel has just been 'high performance tuned' ($8k) with larger injectors (90 vs 70), new fuel pump, rebuilt governor that increased revs from 2100 to 2350 and straight piped exhaust so she sounds the way she looks! The 3 speed Allison auto has a lock up torque converter that enables the bus to easily attain 70 mph (GPS'd). The air brakes just received all new brake shoes and air throttle makes it easy to drive. The air conditioning was also just serviced and brought the interior temp to 69 degrees on a 85 degree day. All fluids and filters were just serviced. All four batteries are also new.
Behind the driver compartment are elevated 10' aluminum ramps with electric winch and a sturdy 6' steel covered workbench mounted over double hazmat cabinets that safely stow 2 five gallon race fuel jugs each. The bench is wrapped in aluminum diamond plate which is a common design theme throughout the 'bat bus'.
The open 20' area behind the workbench is accessed thru the rear door and is ideal for tool boxes, spares, etc and also features a full width rear couch with twin marble table tops mounted over the rear wheel wheels. There's still plenty of space for customizing per your imagination! A ladder allows roof top access thru one of two hatches. I'm retiring from racing and don't want this great transporter to wither as everything is fresh! Spent over $30k on this unique vehicle. Will consider trade for rat rod, hot rod, diesel pusher RV, diesel pickup, van, hydraulic tailgated box truck or cycle(s).
More on this gem found here on Craigslist while it's still available: http://losangeles.craigslist.org/sfv/cto/5964811824.html