In the summer of 2014, I spent a lot of time focusing on getting to know more about my car. There were a bunch of guys working at Wright-Patterson driving Evos and STIs, and one of them had spent quite of bit of time doing autocross and HPDE. After explaining my plans to compete in OLOA, James Hodges made light work of getting me off my butt, and getting out to nearly every event that I could that summer.
In addition to our local auto-x events, we both decided to compete at an event in Indy called Race4Time in July. It was a charity event that combined a bunch of different challenges for drivers including autocross, drag racing, and a stop in the box. Racing started pretty early in the morning, and ran until dusk. Ashley and I had just bought a new camera, and she was eager to try it out. We started in the morning with the autocross portion of the event. We only got a few runs, but it was definitely good practice.
Moving out of the autocross and into the drag race portion of the event, made me a little more comfortable. While my car wasn't fast, and I didn't expect to beat anyone, I at least had marginally more experience on the strip. This was a legit NHRA pro strip, which was a cool experience. Lots of cool scenery but not the stands weren't exactly packed.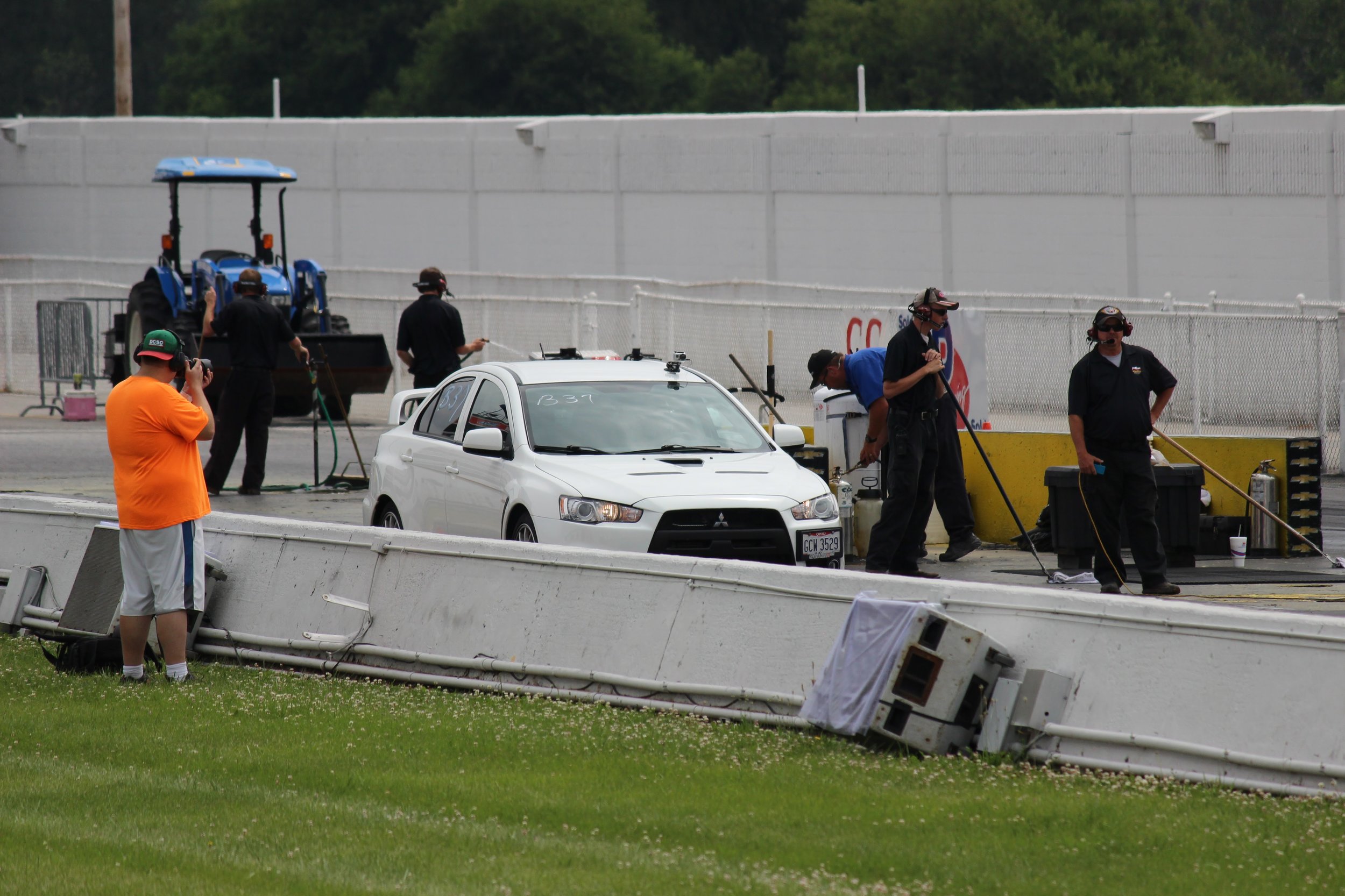 At the beginning of the drag event, we got a bunch of practice runs that served as a qualifiers for the elimination portion. There were a bunch of STIs and Evos at this here, and many of them were just mild modifications. For me, that meant that I was actually at least somewhat competitive. I beat an another stock turbo Evo X, and lost to a really fast Blobeye STI who also raced autocross with local NASA Auto-X Club (Miami Valley Sports Car Club).
That all changed when we got to the elimination portion. Here's my pass against Chad McCurdy in his monster Evo IX. I think his car made about 200-250whp more than mine did at that point. I didn't have a chance. The GIF looks like I upped the playback speed for effect. I didn't, I just got smoked. Oh well.
As the afternoon winded down, we got to the final leg of the competition. The stop in the box, was basically the same as the SpeedStop from an Optima OUSCI event. A coned, mini road course, followed by a stop in a designated area. Time stopped as the car crossed into the box, but In order for the time to count, the car had to stop completely inside the box. Miscues by braking too late and knocking over cones at the end of the box resulted in a DNF.
While I was waiting for my runs in grid, someone in grid told me I needed to go talk to another racer. David Bruzewski was driving a gorgeous Evo VII, that had quite a reputation. The car was a modern barn find restoration, and was featured in (DSport Magazine). The conversation was brief. I barely knew him. He told me that In 2011, he and Jarrod Hoops campaigned an Evo IX RS in 2011 at OLOA, finishing 15th. It was "the most exhausting, most stressful, craziest, most fun, most rewarding thing he's ever done". He also said that while on OLOA "you will never feel as poor as you do while on OLOA. Everyone else's budget just seems out of control". That was the last that I talked with David, for a while. Never in a million years, would I have guessed that David, Jarrod and I would all end up as friends living in the same town in northern Michigan.
This portion of the event was actually a ton of fun. I really enjoyed racing around dusk, and Ashley got some great pictures. This picture of James and I in his red Evo X is easily my favorite racing picture that Ashley has taken over the last couple of years.
The event ended at sundown. A bunch of people got trophies for their exceptional performance. I was not one of those people. We packed up and drove home that night. Overall, the event was a great success for me. I learned a lot, and I was starting to get a good sense for how the car and I stacked up against other drivers. I was a long way from where I wanted to be. I still had a ton of work to do if I wanted to be competitive at OLOA in 2016. It was at this event, that James started talking to me about adding a track day to my calendar for 2014. Mid-Ohio was close, and he had a bunch of experience. In my next post, I'll talk about my first time on track, a close call, and how it's a bad idea to take a 3500+ lb car street car onto the track using all-season tires.