Before I get too far into all of the craziness that is the Tire Rack One Lap of America, I'd like to take a minute to introduce myself, and tell you all more about how I got here. A few of you might know me already, but the TrackTuned and Gridlife guys call me Abe "Froman" Schmucker (aka. the sausage king of Chicago). In 2014, I set a nearly impossible goal for myself. I wanted to not only participate in the 2016 Tire Rack One Lap of America, but I actually be a worthy competitor in the field of very talented drivers.
More than a decade before I made this decision, my family took a holiday vacation that probably changed my life forever. During Christmas Break of my junior in high school, we piled 6 people into a Chevy Duramax 2500HD Crew Cab and embarked on a 6000 mile road trip from Goshen, Indiana to Imperial Sand Dunes in Glamis, California. In tow, we had a 38' enclosed 5th wheel cargo trailer filled 2 Jeep Wranglers and 2 Yamaha Raptor ATVs. We spent nearly a week from sun up to sun down, cruising the dunes at rates of speed that would be illegal on most highways. I think is safe to say that my interest in going fast was born here. While the vehicles and terrain have changed with time, the thrills always stay the same.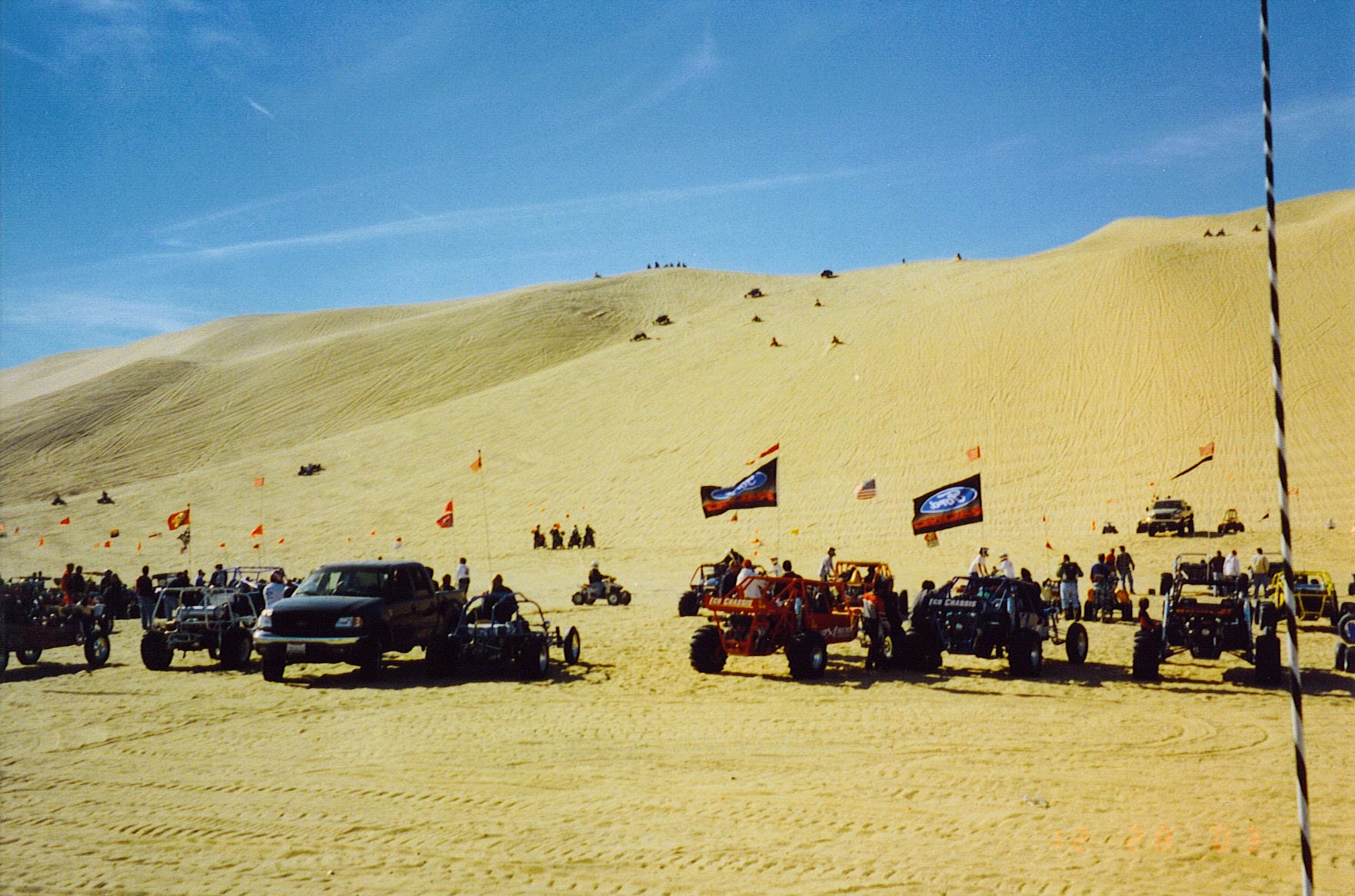 Fast forward a few years. I finished college and we moved to Chicago. From 2008 to 2010, I owned an 08 Yamaha R6 sport bike. I commuted on it during the day, but because we lived within the city limits, almost no fun could be had until traffic went down in the evenings. Some nights, I'd go out to ride at midnight just to enjoy the pleasure of the open road, and the scream of the exhaust in the tunnels below Wacker Drive. Because I had too many close calls with drivers that weren't paying attention, I decided to get rid of the bike. While I have never been able to recreate the visceral experience of going WOT on a sport bike, I figured hitting full boost in a turbo car would come pretty close.
Enter my 2005 Subaru WRX. I picked it up in 2010, from a kid that beat the crap out of it and left it in rough shape. Boost leaks, exhaust leaks, bad brakes, etc. You name it, it was probably screwed up in some way. It did sound pretty good though.
After I fixed a few things, I realized I had a vehicle that might be fun to take off-road. Having spent so much time at Silver Lake State Park in Michigan growing up, I decided to take the Subaru out, just to see if it could make it. The car ran beautifully, and continued to surprise anyone who doubted it.
I did my first rallycross with some indiana guys in December of 2011 out near Indianapolis. To say it was crazy to drive my daily 3+ hours each way to go rallycross, and hope that the car didn't brake down is an understatement. That was the magic of the WRX though. It just continued to take all of the abuse that I could ever throw at it.
At the time that I bought the car it was "Stage 2" and I hadn't really ever done any of my own wrenching. In early 2013, a friend helped me turbo swap the factory TD04, to a Blouch Small 16g. Looking back, it wasn't a huge job, but it was more work than I had ever done. Specifically, we changed out the fuel pump to a Walbro 255, change the fuel injectors to Deatschwerks 650cc's, replaced the intercooler with one from an STI, and replaced the turbo. It probably netted less than 50 extra wheel horsepower, but it was a real accomplishment for me given that I had so little experience. At least it felt fast.
I really only kept the car in that form for a summer. It's a shame that people are so afraid of buying a modified car. I sold the turbo, injectors, flashed the car back to stock, and sold it in the summer of 2013. It was time to move onto bigger and better things. This is when the fun really began.
October 2013:
I was about just about to finish grad school, with a newly minted PhD. I had my next job lined up, and I was ready to treat myself. By now my WRX wagon was haggard, and I was ready to buy a new car. I could have bought a new STI, but I decided against it. I wanted my next car to be a platform for me to make 450whp as easily as possible. I convinced the rest of my Subaru family that I wasn't buying another Subaru. An Evo was the only other option for what I was looking to do. What that was, I didn't know. The only thing that I was for sure of was that I needed a car that could make 450whp RELIABLY! My wife asked me, "for what?" or "what are you going to do with that much power?" At the time, I didn't have the answer. It didn't matter because I got started anyway. After spending some time reading, it really seem the like the Evo could get me closer to where I wanted without adding the cost of a built motor. After a lot of looking, I found a post for a gently used 2013 Mitsubishi Lancer Evolution X on EvoM. He had the car posted for a few weeks and wasn't getting a whole lot of serious interest. Having just sold my WRX I was in the market for a car sooner rather than later. He put together the following ad:
Up for sale is my immaculate 2013 Evo X with 5992 miles on it. (Car will go up a few miles a week since I drive it to class on Mondays and Wednesdays). The car has a matte vinyl wrap that was installed around 1000 miles. The paint underneath (originally wicked white) is absolutely in immaculate condition. The car has never been smoked, eaten, or even drank in. Car has never seen snow and has always been garaged. Car had an oil change at 500 miles, 1500 miles, and 4000 miles. Car has never seen the track or drag strip. Car has also NEVER been launched. Oil changes have been done by me, but other stuff like parts installs and tune were done by Devin at Boostin Performance. And general maintenance stuff I can't do myself such as tire rotation and alignment were done at a very reputable shop in Indiana.

The reason I'm selling the car is I just purchased a new car and need to sell this. The car has some well planned mods on. I'm not going to part it out since I don't trust any shop in Indiana to uninstall the mods, and with school I have no time to drive to Chicago. So what you see is what you get. Car is a GSR with SSS package.

Mods:

Coltspeed Strut Bar
Coltspeed Hood Dampers
Tomei Titanium Upper Intercooler Pipe
Blitz Piping Stopper
Voltex Front Lip
Voltex Front Diffuser
Enkei RPF1 in Matte Bronze 18x10.5+15
RS-R Racing Tyres 265/35/18 (sized like 275/35/18)
Swift Spec-R Springs
Eibach Rear Sway Bar
Hotchkis Endlinks
Spoon Rigid Collars
ETS Intake
ETS o2 dump w/ Additional Bung
Depo Racing Testpipe
HKS Hi-Power Catback
AMS Race Front Motor Mount
AEM Boost Gauge
AEM Wideband
Grimmspeed 3 Port
Project Kics Lug Nuts
15% tint
Devin Tuned 323AWHP/315AWTQ at 97 Degrees

No test drives unless money in hand.

Will ship but buyer pays shipping and figures it all out.
I figured there wasn't any risk in just getting more info, so I reached out to the seller. He was polite, knowledgable, motivated, a Bloomington Indnana native, and a fellow Indiana Hoosier. I couldn't have asked for more. Buying a modified car doesn't have to be a scary process, if you know how to ask the right questions. Here is what it looked like when I took it back to Chicago.
The first thing that I had to do was get some Rally Armor mud flaps onto the car. The 10.5" RPF1s that were one the car had a high offset and sat outside of the fender well. Tires threw debris all over the car.
It got cold pretty quick in Chicago, and the performance summer tires were a deathtrap at low temperatures. As soon as we got settled at our new place in Dayton, I sold the tires and wheels and bought a set of OEM wheels so that I could run all seasons. It got me through the winter, but I should have saved them. I didn't realize I was going to need them again so soon.
With the new wheels on, I made it through the winter without an accident. My next priority was getting the wrap off the car as soon as the weather was warm enough. I liked the gray, but I wanted the Wicked White car, so we set aside a Sunday to start pulling everything off.
In my next post, I'll tell you more about how a simple decision to go to the drag strip in the summer of 2014 lead to me falling into the deepest rabbit hole of my life. Since then, I've spent countless hours, and thousands of dollars on the turning the Evo into the OneLapGSR. If any number of things had been different that fateful night, I might have stayed home. I'm happy I didn't.